About Us
The mission of the Collaborative is to accelerate the adoption of innovative gas technologies that will reduce carbon emissions in North America. The Collaborative was founded in 2022 by a group of 14 gas and dual fuel utilities and energy efficiency program administrators who recognized gas heat pump technologies play an important role in decarbonization. The group works with many partners to implement market transformation activities with the goal of accelerating adoption of gas heat pumps and other technologies that support decarbonization in North America.
Choose an option below to learn more: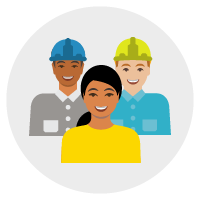 About the Collaborative
About Gas Heat Pumps
© 2023 All rights reserved.  |  Terms and Conditions  |  Privacy Policy
Website developed by Resource Innovations, Inc.